Driving Test Success _ ALL Test 2011
---
Driving Test Success _ ALL Test 2011
£15.00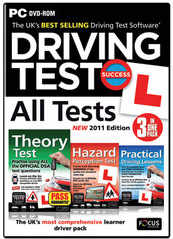 For your Windows PC or laptop
EVERYTHING YOU NEED FOR THE WAY YOU WANT TO LEARN
THEORY TEST
Essential revision for learner car drivers, motorcyclists and ADIs in Great Britain and Northern Ireland.
Sit unlimited random mock tests that accurately simulate the OFFICIAL DSA Theory Test.
View hints and full explanations of the answers.
Customise tests and practise questions that need more revision.
Test your knowledge of every road sign that you may be asked in your Theory Test.
The software analyses your progress and knows when you're ready to sit the real test.
Printable exam papers allow you to revise away from the computer
Optional voiceover to help those with reading difficulties.
Official DSA Questions
Practise every OFFICIAL question that you could be asked in your Theory Test, valid until September 2011.
Case Studies
Practise interactive case study questions covering all 14 DSA topics.
Theory Test Book
Revise every OFFICIAL question using the printable Theory Test book.
Learn on the Go
Practise OFFICIAL DSA Theory Test questions on the move using your mobile phone, iPod® or other MP3 compatible device.
HAZARD PERCEPTION TEST
Practise HUNDREDS of interactive test simulation video clips as many times as you like.
Sit unlimited random mock tests that accurately simulate the OFFICIAL test by the DSA.
Review each clip to understand where the hazard develops and how maximum points are scored.
Monitor your progress and find out when you have reached test standard.
All test clips are shot from outside the car, just like the real test.
Official DSA Introduction Video
Learn how the test will be conducted by watching the OFFICIAL DSA introduction video.
Official DSA Video Clips
Watch the OFFICIAL DSA sample video clips to prepare you for the test.
PRACTICAL DRIVING LESSONS
NEW Over 50 completely up-to-date video tutorials showing you how to reach Practical Test pass standard.
NEW Contains all the changes to the DSA driving test including Independent Driving and Observer on Test.
Sit alongside a learner driver as they perform under construction the essential driving manoeuvres that you may be tested on in your exam.
Videos are shot using multiple camera angles to give you a thorough understanding of tricky manoeuvres.
NEW Mock Driving Test
Watch a full, up-to-date mock driving test from inside the car. Find out exactly what the examiner is looking for.
Show Me, Tell Me
Access all the OFFICIAL DSA test questions and expert answers, plus step-by-step video tutorials.
PLUS
The Highway Code
Read, search and print the latest digital edition of The Highway Code.

Advice Centre
Essential advice and information about all three tests and how to ensure you pass first time.

Safe Driver Test
Discover which of your own individual attitudes and behaviours make you more likely to take risks and cause an accident.

System Requirements


PC Operating System: Windows® XP / Vista / Windows® 7

PC CPU Type and Speed: Pentium® IV 1.5GHz or equivalent

Hard Drive Space (MB): 620MB

Memory: 512MB (1GB for Windows® Vista or 7)

Graphics: Any Direct3D 9 compatible graphics card (with at least 32MB of memory)

Audio: Any DirectX® 9 compatible soundcard

Printer: Required to print documents and reports

Internet: Required for downloading updates

Extra Info: Not compatible with Netbook PCs