Driving Test Success Hazard Perception
---
Driving Test Success Hazard Perception
£14.00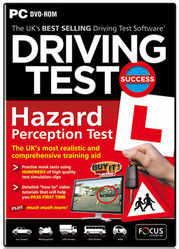 THE COMPLETE COMPANION FOR PART TWO OF YOUR THEORY TEST
Driving Test Success has helped over 3.4 million people learn to drive.

To pass the Hazard Perception Test you'll need to learn precisely what constitutes a developing hazard and then put that skill into practice. This best-selling software accurately simulates the DSA's Hazard Perception Test, giving you all the vital practice and understanding you will need to pass first time.


EVERYTHING YOU NEED TO BECOME A HAZARD PERCEPTION EXPERT!
Packed with hundreds of test simulation video clips.
Sit random mock tests under exam conditions, giving you virtually unlimited combinations.
Exclusive, high quality video clips that you won't find anywhere else.
14 carefully balanced pre-set mock tests.
Gain experience in realistic test settings including main roads, town and city centres, dual carriageways, residential streets and country roads.
Review each clip with a timeline to discover where the hazard occurred and where the maximum score could have been achieved.
Analyse your performance over time using detailed progress reports.
Highly accurate in-built anti-cheat detection, just like the real test.
Exam hints and tips.
Covers motorway driving and poor weather conditions to help you prepare for safe driving after the test.
PLUS HANDY REVISION AIDS FOR THE WAY YOU WANT TO LEARN
Video Training Tutorials
Learn exactly what constitutes a developing hazard, how the test is marked, how anti-cheat detection works plus much more!
Real Life Driving
Practise video clips filmed from inside the car covering raindrops, wiper blades and reflections to prepare you for real life driving.
Commentary Driving
Learn how to handle potential hazards from a highly experienced Police pursuit driver.
Test your Knowledge
Sit a Hazard Perception multiple choice quiz to help strengthen your understanding of a developing hazard.
Online Updates
Stay up to date with the latest changes to the actual DSA Hazard Perception test.

System Requirements


PC Operating System: Windows® XP (Service Pack 2) / Vista / Windows® 7

PC CPU Type and Speed: Pentium® IV 1.5GHz or equivalent

Hard Drive Space (MB): 120MB

Memory: 256MB

Graphics: Any Direct3D 9 compatible graphics card (with at least 32MB of memory)

Audio: Any DirectX 9 compatible soundcard