Driving Test Success ALL Tests DVD
---
Driving Test Success ALL Tests DVD
£24.00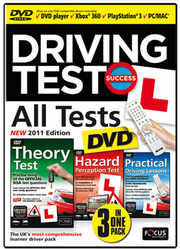 Plays on any DVD compatible device including:
DVD player
PlayStation® 3
Xbox® 360
Apple MAC (requires DVD drive and software player)
Disc 1. THEORY TEST
This easy-to-use interactive DVD contains EVERY question from the Driving Standards Agency, the people who set the test. Essential for all learner drivers and motorcyclists, Driving Test Success will have you throwing away those L plates in no time!
Disc 2. HAZARD PERCEPTION TEST
This highly realistic DVD is packed with over 190 unique video clips that accurately simulate the second part of the Theory Test. You will learn exactly what constitutes a developing hazard and how you can put that skill into practice to ensure you pass first time.
Disc 3. PRACTICAL DRIVING LESSONS
Gain the confidence and knowledge you need to pass your Driving Test using this comprehensive DVD. With over 50 driving lessons, you can revise and refresh the essential driving skills taught to you by your Approved Driving Instructor before and after lessons.


Recommended and endorsed by the leading driving instructor associations, the MSA, DIA and ADINJC
Language: English
Duration: Over 18 hours
Picture Format: 4:3 / 16:9
Disc Format: DVD-9
Region code: 2
Works on all DVD compatible games consoles
Mac requires DVD drive and software player.
1. THEORY TEST
Practise every OFFICIAL question that you could be asked in your Theory Test, valid until September 2011.
Includes information about the OFFICIAL DSA case study questions.
Sit hundreds of random mock tests to see if you are ready for the big day.
View hints and explanations for every answer.
Receive immediate feedback on your answers to help identify questions that need more revision.
Watch the 10 OFFICIAL DSA Hazard Perception sample video clips and introduction video.
View the latest digital edition of The Highway Code.
2. HAZARD PERCEPTION TEST
Practise your Hazard Perception skills using over 190 interactive test simulation video clips.
Sit hundreds of interactive mock tests to prepare you for your exam.
Review each clip to understand where the hazard develops and how maximum points are scored.
Gain essential experience in a variety of real-life settings including main roads, town and city centres, motorways and rural roads.
3. PRACTICAL DRIVING LESSONS
Over 50 completely up to date video tutorials showing you how to reach practical test standard.
NEW Contains all the recent changes to the DSA driving test including Independent Driving and Observer on Test.
An experienced professional instructor demonstrates how to perform essential driving manoeuvres that you may be tested on in your exam.
Learn where all the main car controls are and how to operate them.
Includes all the OFFICIAL DSA Show Me, Tell Me test questions and expert answers, plus step-by-step video tutorials.
Videos are shot using multiple camera angles to give you a thorough understanding of tricky manoeuvres.

Driving Lessons include:

Pre-drive safety checks
MSM and POM routines
Use of mirrors and stopping safely
Moving off
Roundabouts, crossroads and junctions
Responding to road signs and markings
Four reverse manoeuvres and emergency stop
Hazards and pedestrian crossings
Poor weather conditions
The two second rule and stopping distances
Dual carriageways