Driving Test Success - Practical Simulator
---
Driving Test Success - Practical Simulator
£15.00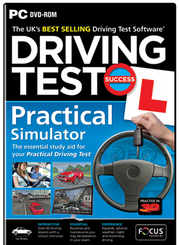 The COMPLETE companion for your Practical Driving Test
Driving Test Success has helped over 3.4 million people learn to drive.

Practical Simulator provides you with a fully interactive training programme that covers everything from the cockpit drill to the day of your test. This comprehensive computer-based training package will teach you how to acquire and maintain the safe driving skills you need to advance through your driving lessons and pass your test.
3D DRIVING LESSONS
Improve your real life skills - essential training for ALL learner drivers!
A virtual instructor guides you step-by-step through every 3D lesson.
Experience unpredictable traffic and pedestrian movements, just like in real life.
Covers town and rural driving, moving off and stopping, manoeuvres, safe use of speed, overtaking, motorways, dual carriageways and much more.
Use your mouse, keyboard, or any PC compatible steering wheel to steer your virtual car.
Watch a full mock driving test with examiner debrief.
Sit a realistic 3D driving test to help identify your weaknesses before taking your test.
OFFICIAL DSA Show Me, Tell Me test questions plus video tutorials.
Over 20 printable fact sheets to help you learn essential driving skills.
Over 100 video tutorials covering everything from the basic car controls to motorway driving.
REVISION AIDS FOR THE WAY YOU WANT TO LEARN

System Requirements


PC Operating System: Windows® XP / Vista / Windows® 7

PC CPU Type and Speed: Pentium® IV 2.0GHz or better

Hard Drive Space (MB): 4.2GB

Memory: 512MB (1GB for Windows® Vista or 7)

Graphics: NVidia® GeForce™ FX / ATI® Radeon™ 9500 or higher*

Audio: Any DirectX 9 compatible device

Printer: Optional (Required to print fact sheets)

Extra Info: + Optional support for any PC compatible steering wheel (does not utilise pedals). *Laptop and integrated versions of these chipsets may work but are not supported.