Driving Test Success ALL TESTS Premium DVD
---
Driving Test Success ALL TESTS Premium DVD
£30.00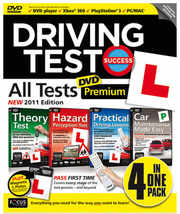 Plays on any DVD compatible device including:
DVD players
Xbox® 360
PlayStation® 3
PC/MAC†
THEORY TEST
Practise every OFFICIAL DSA question that you could be asked in your Theory Test, valid until September 2011.
Includes information about the new OFFICIAL DSA case study questions.
Sit hundreds of random mock tests to see if you are ready for the big day.
View hints and explanations for every answer.
Receive immediate feedback on your answers to help identify questions that need more revision.
Watch the 10 OFFICIAL DSA Hazard Perception sample video clips and introduction video.
Essential revision for learner car drivers and motorcyclists in Great Britain and Northern Ireland.
Find out how to book your Theory Test and what happens on the big day.
HAZARD PERCEPTION TEST
Gain the vital experience and confidence you need to pass the Hazard Perception part of your Theory test.
Practise 190 interactive test simulation video clips.
Sit hundreds of interactive mock tests to prepare you for your exam.
Review each practice clip and discover where the hazard occurred and where the maximum score could have been achieved.
Experience realistic test settings including main roads, town and city centres, residential streets and rural roads.
Video tutorials showing how the test works, how to spot a developing hazard and much more.
Essential test preparation for learner car drivers and motorcyclists.
PRACTICAL DRIVING LESSONS
Watch over 50 completely up to date video tutorials showing you how to reach Driving Test standard.

An experienced professional instructor demonstrates EVERYTHING that you may be asked to perform in your test, including:
Independent Driving
Pre-drive safety checks
MSM and POM routines
Use of mirrors
Approaching and negotiating roundabouts
Negotiating stop and give way junctions
Maintaining road position and following distances
Reverse parallel park beside the road
Reverse bay park
Joining and exiting dual carriageways
Left reverse into a side road
Turn in the road
Controlled emergency stop
The Two Second rule and stopping distances
Plus much more
CAR MAINTENANCE MADE EASY
Watch professionally filmed video tutorials covering all the essential checks and tasks that need to be carried out on a regular basis and between services.
Prevent breakdowns and expensive repair bills.
Reduce the risk of having an accident.
Find out how to reduce CO2 emissions and save on fuel.

Learn how to:

Check tyre tread depth, wear and damage
Change a tyre
Measure tyre pressure
Jump start a car
Replace bulbs and fuses
Check your oil
Plus much more


Operating System
Language: English
Duration: Over 19 hours
Subtitles: N/A
Picture format: 4:3 / 16:9
Disc format: DVD-9
Region code: 2
Works on all DVD compatible games consoles
† PC/Mac requires DVD drive and software player


ALSO INCLUDED
Magnetic L Plates
High quality learner plates that comply with Department of Transport regulations.
The Highway Code
View the latest digital edition of The Highway Code.
Mock Driving Test
Watch a full, up to date mock driving test and find out exactly what the examiner is looking for.
Show Me, Tell Me
Access all the OFFICIAL DSA test questions and expert answers, plus step-by-step video tutorials.
Advice Centre
Essential information about all three tests and how to ensure you pass first time.