Driving Test Success - Practical Pc/CD/DVD
---
Driving Test Success - Practical Pc/CD/DVD
£15.00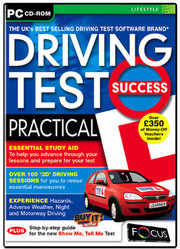 Get the confidence and knowledge you need to become a safe and considerate driver, whilst saving you time and money.

Practice, revise and refresh the essential driving skills taught to you by your Approved Driving Instructor, before and after lessons. Featuring a virtual 3D car and town you will be able to practice, under instruction, the many vital driving routines on your PC – at your leisure! Watch the supporting video clips of mock driving lessons to get professional advice on observation issues, safe driving practices and techniques. Including a step-by-step guide to prepare you for the new "Show Me, Tell Me"* part of the test. Prepare for your driving lessons and impress your instructor with your new knowledge with this essential study aid.
Remember, there is no substitute for getting real driving experience with your Approved Driving Instructor.
Information Centre - advice on what you need to know before starting your driving lessons.
Know Your Car - find out about the main car controls and how they work.
Easy to Use - keyboard and mouse controls to drive the car.
Over 100 "3D" Driving Sessions - for you to revise essential manoeuvres.
Tutorial Videos – watch how a professional instructor performs a variety of manoeuvres.
Show Me, Tell Me - step-by-step guide for the new question and answer test.
Virtual Test Section - identify your strengths and weaknesses.
Driving Sessions Cover:
Pre-drive safety checks
Moving off procedure
Moving off uphill and downhill
Safely stopping the car
Stopping distances
Separation distances
Mirror Signal Manoeuvre Routine (MSM)
Position Speed Look Routine (PSL)
Assessing and driving through bends
Assessing/Driving through double bends
Emerging and exiting at junctions
Negotiating give way junctions
Negotiating stop junctions
Negotiating controlled crossroads
Turning and passing through roundabouts
Reversing issues
Reversing into a side road
Turn in the road
Reverse park beside the road
Bay parking
Uphill and downhill parking
Encountering pedestrian crossings
Encountering hazards
Road condition hazards
Completing safe emergency stops
Driving in fog, wind, rain, ice and at night
Joining and exiting a dual carriageway
Driving on a dual carriageway
Joining and exiting a motorway
Overtaking on a motorway
Motorway signs and signals
Applying the Two Second Rule


System Requirements


PC Operating System: Windows 98 / Me / 2000 / XP / Vista

PC CPU Type and Speed: Pentium III 450 or equivalent

Hard Drive Space (MB): 211MB

Memory: 64MB (128MB recommended)

Graphics: Any 16MB 100% DirectX 8.1 compatible graphics card (800x600x16bit or higher)

Audio: Any 100% DirectX 8.1 compatible soundcard

Printer: Required to print user manual

Multiplayer: N/A

Internet: N/A

Extra Info: This product is suitable for UK & Northern Ireland tests only.

| | |
| --- | --- |
| | "Extensive material includes driving an on-screen virtual car and many in-vehicle clips of real-life instruction." 4/5 Auto Express |
| | |
| --- | --- |
| | "We were genuinely impressed with this title. The instructions are clear and the course is quite thorough. It even includes tutorials on after-test scenarios." 5/5 Computeractive |
| | |
| --- | --- |
| | "This is a comprehensive program that brings the driving test experience to life at a great price. This is an ideal companion that combines your real-life experience with a wealth of practical knowledge." 9/10 Windows XP Made Easy |