Midscape Smarter Brain Trainer
---
Midscape Smarter Brain Trainer
£15.00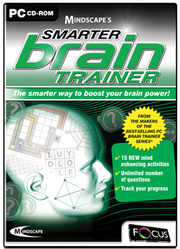 The fun way to keep your mind sharp and focused!


Spending a few minutes each day on a mental workout can help improve your brain power. Smarter Brain Trainer has been specially designed to exercise and stimulate your brain. It can help improve your concentration and memory through 15 new activities.

Complete the Daily Brain Test and review your progress, or just play your choice of activities for the challenge.
Unlimited number of questions – the program automatically generates new questions for each session
15 mentally stimulating activities split into five key areas of brain use: verbal, logical, spatial, numerical and memory
Up to 5 difficulty levels to continually challenge you
Create multiple player profiles – for you and your family
Scoring – compare your score or beat your best time
Progress charting – track improvements daily, weekly and yearly
Reminder system – no more excuses for not doing your mental workout!

15 brand new brain trainer activities to choose from: Code Word, Stroop, Wordex, Correct Change, Bingo, Pairs, Spider Web, Symbol Block, Dodger, Number Recall, Stepping Stones, What's in the Box , Boxes, Linker and Path Finder



15 NEW mind enhancing activities
Unlimited number of questions
Track your progress

System Requirements


PC Operating System: Windows® XP / Vista / Windows 7

PC CPU Type and Speed: Pentium® or equivalent, 1GHz or better

Hard Drive Space (MB): 45MB

Memory: 128MB (512MB for Vista)

Graphics: Any (1024x 768 32bit colour) display adaptor

Audio: Any sound card