Paralympic Flame lit on snowdon
Paralympic flame lit on Snowdon by Gwynedd scouts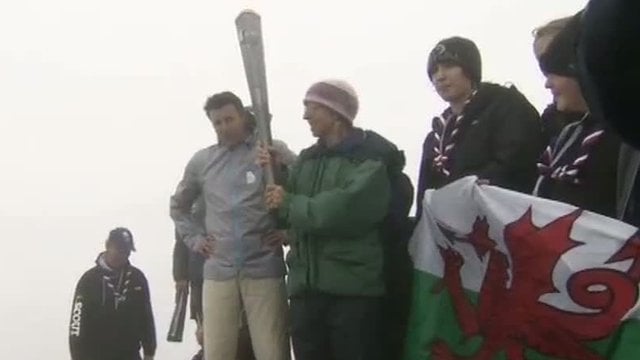 The Paralympic flame has been sparked at the summit of Snowdon as part of the London 2012 Games.
Scouts struck a metal rod against a rough steel surface to ignite sparks to light the flame.
Games organising chair Lord Coe, who joined their climb, said it symbolised the human endeavour and spirit of the Paralympics, which start on 29 August.
Flames were also being lit at the highest peaks in England, Scotland and Northern Ireland.
The flame from Snowdon will be placed in a miner's lantern taken to Cardiff for a day of Paralympic celebrations.
A group of disabled and non-disabled scouts from Gwynedd struck the ferrocerium rod on Wednesday.
They were accompanied by former athlete and Games organising chair Lord Coe who walked up the mountain.
'Unique identity'
At the top of a wet Snowdon, Lord Coe said that he believed when people saw the quality of Paralympic sport they would be "blown away".
Lord Coe told the BBC: "It's been a great team effort this morning. Quite cold in places so a couple of rests, but we all knew this."
He said that after trekking up the mountain, he would be getting the train back down.
Earlier, he said the focus was on human endeavour and team work.
"We have created a unique identity for the Paralympic torch relay which will be celebration of courage, determination, inspiration and equality that every Paralympian represents," he said.
"By creating the Welsh flame through human endeavour at the summit of Snowdon we will ensure that the spirit of Wales is represented in the Paralympic flame."
He added: "[Endeavour and teamwork] that's really the basis of Paralympic sport.
"I think when people watch Paralympic sport, often for the first time - in a way that a lot of people watch Olympic sports for the first time - they are going to recognise this is something that 99% of the population cannot do it."
The Welsh government's Sports Minister Huw Lewis added Paralympic athletes demonstrated "disability is no barrier to incredible achievement".
The lantern will arrive in Cardiff on Monday, 27, August for a day of Paralympic celebrations involving a cauldron being lit outside City Hall and a flame festival in Cardiff Bay.
From Cardiff the flame will be taken to Stoke Mandeville, Buckinghamshire, where it will be united the other three flames.
A ceremony will be held on Tuesday 28 August and a single Paralympic flame will be created for the 24-hour torch relay that ends at the Paralympic Stadium on Wednesday.