The Highway Code For 2022
Changes for 2022
New rules on the hierarchy of road users - This means the introduction of new responsibilities towards more vulnerable road users, to keep them safe on the road. These are known as the 'H' rules

Mobile Phones - Tighter restrictions on the use of mobile phones whilst driving

Junctions - You should give way to pedestrians crossing or waiting to cross a road that you're turning into

Parking Laws - New rules around parking on pavements

Source material - The Official Highway Code remains one of the source materials for all theory tests

Keep safe, make sure you're up to date with the latest rules of the road. Avoid penalties and fines by getting the latest copy of The Official Highway Code.
PRICE £5.99 Postage £1.75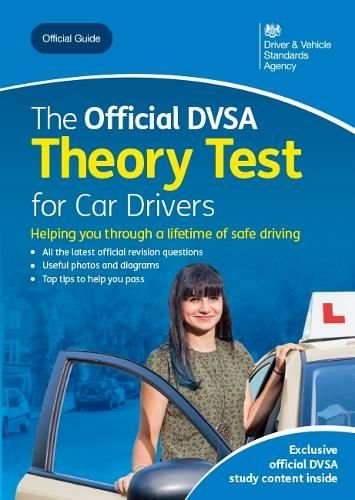 PRODUCT DESCRIPTION
Prepare to pass the multiple choice section of your theory test first time with the number-one best-selling theory test book - the ONLY official expert revision guide. This new edition has been updated with the latest changes to the car theory test revision questions.
MORE INFORMATION
Practice questions - includes ALL the official DVSA theory test revision questions for all 14 topics, so you can see how much you've learnt
Practice case studies - the ONLY book to include official DVSA practice case studies on every topic, plus additional case studies for extra revision
Bite-size information - written in an easy-to-remember way that links the theory to your practical driving experience, helping you to really understand
Learn your way - loads of photos and diagrams, links to more information and videos online, hints and tips to help you learn, and expert advice on what to expect on the day
Extra help to understand the answers - each question includes references to the official source materials, where you can learn more
From theory to practice - things to discuss and practise with your instructor to help you apply the theory when you're behind the wheel
Meeting the standards - summaries to help you understand how each topic relates to the national standard for driving cars and light vans
Easy to use - the answers are displayed in a separate section, so you can test yourself and see when you're ready to pass!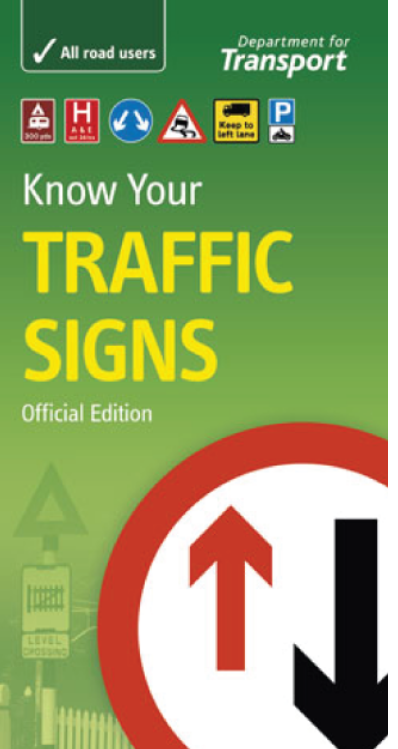 Driving Theory Test Traffic Signs
PRODUCT DESCRIPTION
This handy reference title illustrates and explains the vast majority of traffic signs that a road user is likely to encounter. A thorough knowledge of all traffic signs is essential for all road users, not just new drivers or riders, making this the ideal companion to ensure your knowledge is up-to-date. Although The Official Highway Code contains most of the commonly used road signs which are prescribed by the Traffic Signs Regulations, it does not give a comprehensive explanation of our signing system. This is therefore a perfect complementary title to The Official Highway Code.
MORE INFORMATION
Handy reference guide
Illustrates and explains the vast majority of traffic signs
The perfect companion to The Official Highway Code
Suitable for all road users not just learner/ new riders and drivers
Driving The Essential Skills
PRODUCT DESCRIPTION
Whether you're a learner, an experienced driver or a driving instructor, The Official DVSA Guide to Driving - the essential skills is packed full of advice that will help you stay safe on our roads. This comprehensive guide is THE industry standard driving manual. Learn how to get the most enjoyment from your driving with the correct skills, attitude and behaviour.
MORE INFORMATION
Sharpen your driving skills - information on essential driving techniques, including overtaking safely, using limit points, defensive driving and maneuvering
In all conditions - expert advice on driving safely and confidently at night, in adverse weather conditions, on motorways and through roadworks
Pass your theory test - this book is a key source material for the car and driving instructor theory tests
Up-to-date information - on vehicle maintenance and security, fuel efficient driving, smart motorways and much more
For your driving life - hints and tips for a lifetime of safe driving, ideal for refreshing your knowledge before and after your test
Price £16.99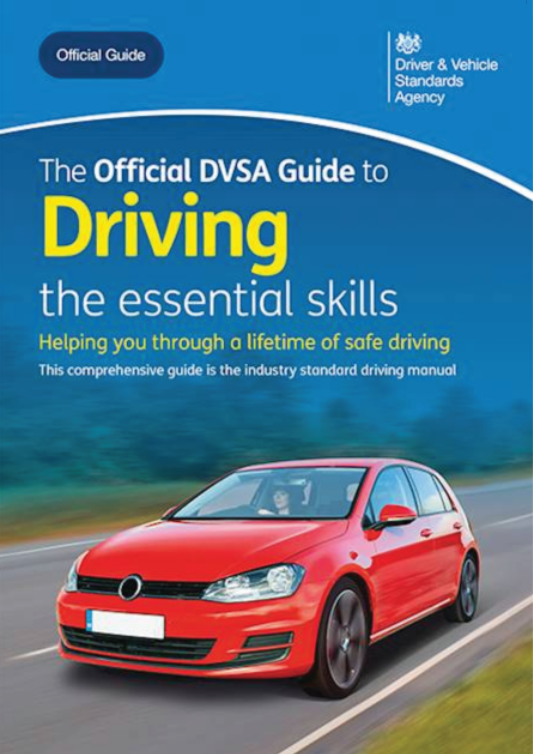 The Official DVSA Guide to Learning to Drive Book
PRODUCT DESCRIPTION
Want to pass your practical car driving test? The Official DVSA Guide to Learning to Drive tells you what you need to know.
This new edition also explains in detail the practical tests in England, Scotland and Wales. Includes the manoeuvres that candidates will be asked to carry out, the independent driving part of the test, and the timing of vehicle safety questions (the 'show me', tell me questions)
MORE INFORMATION
Updated learner driver record - Learner driver record has been fully updated. You can use it to record all the training you do with your driving instructor
Practical test explained - describes the standards required to pass your practical test, including information on independent driving
Private practice help - advice for those working with a learner driver and their instructor to get the most out of time between lessons
What to expect on the test itself - explains what the examiner is looking for, plus tips from the experts
Price £9.99
PRODUCT DESCRIPTION
This pack contains the following 3 books for a complete learning experience (click the links below for more information about each product)
The Official DVSA Theory Test for Car Drivers Book
The Official DVSA Guide to Driving: The Essential Skills Book
Know Your Traffic Signs
Price £37.00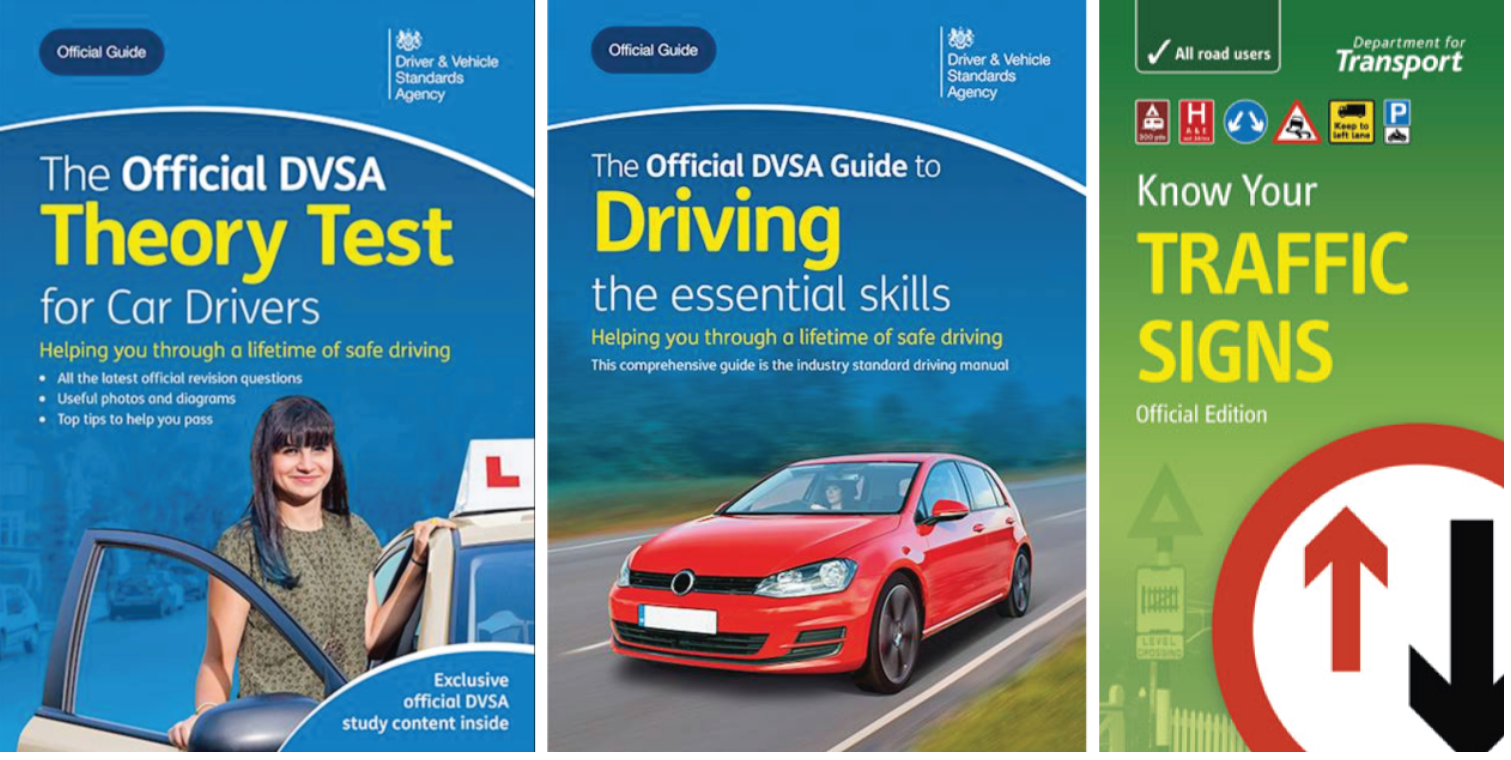 Anything You Need or Can't find? Contact Us
Please complete the form below and click the Send button to get in touch with us.
Thank you for submitting the contact form.

Monday - Friday:
09:00 am - 6:00 pm
Saturday - Sunday:
10:00 am - 3:00 pm