A guide to Pedestrian Crossings
Pedestrian Crossings
The most basic form of helping people to cross the road is a pedestrian refuge, which is usually in the form of an island in the centre of the road.
This allows people to cross busy or wide roads - one side at a time
And provides somewhere safe in the middle of the road to wait until it is clear to cross safely
There are currently five types of formal pedestrian crossings used in the United Kingdom, these being Zebra, Pelican, Puffin, Toucan and Pegasus crossings.
See Our 2 minute Tutorial On Pedestrian Crossings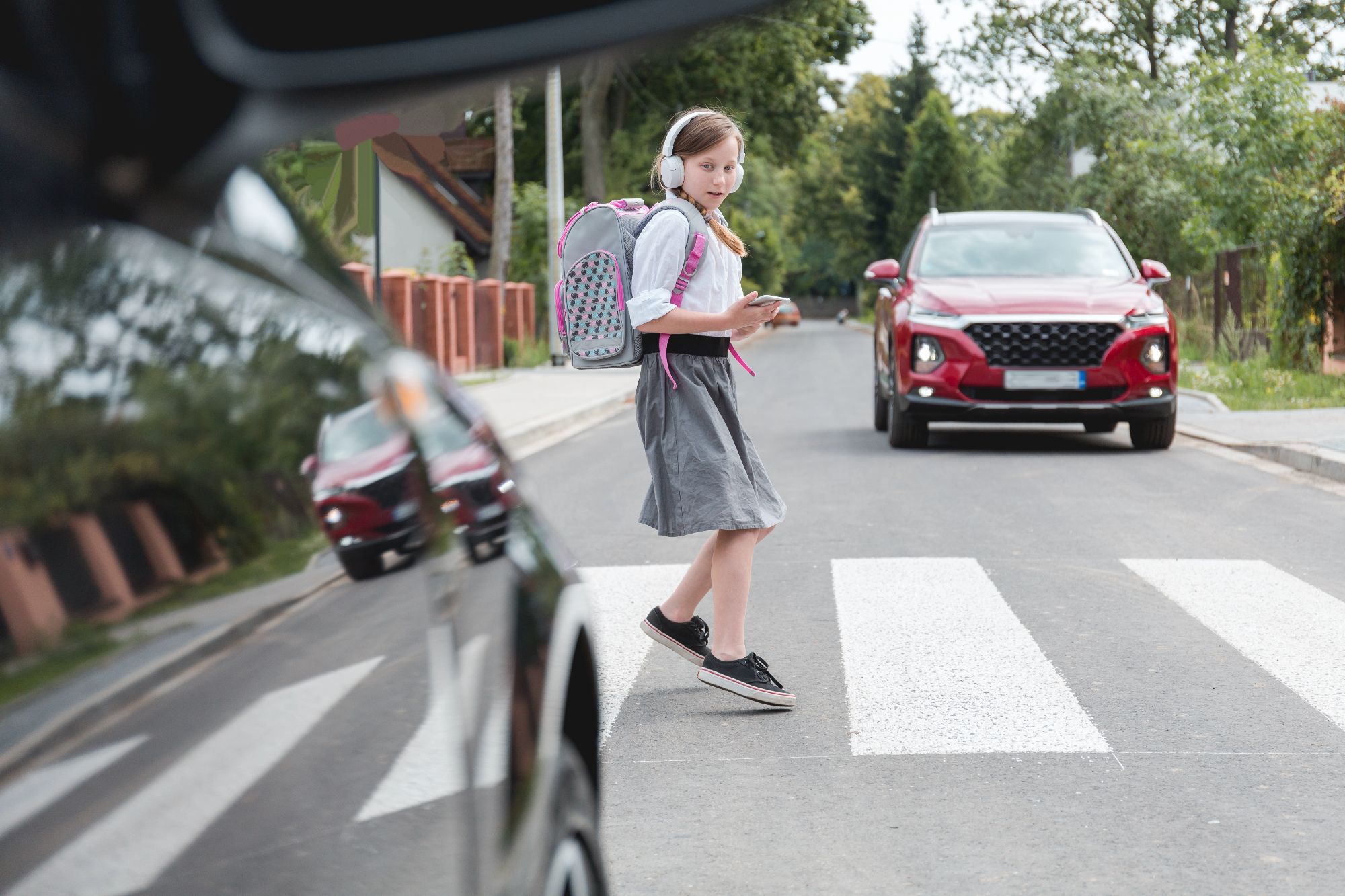 Uncontrolled crossings are ones without any form of traffic lights.
This is notably the pedestrian refuges and Zebra Crossings
With these forms of crossings you have to use anticipation and look to see if anyone is either on the crossing or approaching it at the same time
As the driver it is your reponsibility for the safety of pedestrians especially those who may not be aware of your presense.
There are no traffic lights, only the flashing amber lights.
So as a driver approaching a Zebra crossing you must be on the lookout for pedestrians who are potentially about to use the crossing.
Equally pedestrians must be sure that the approaching driver has spotted them before they attempt to cross.
When stopping ensure you do so before the dotted white line.
On the approach to the Zebra crossing you'll see white zigzag lines. You should not park your vehicle here under any circumstances and not overtake within the zigzag area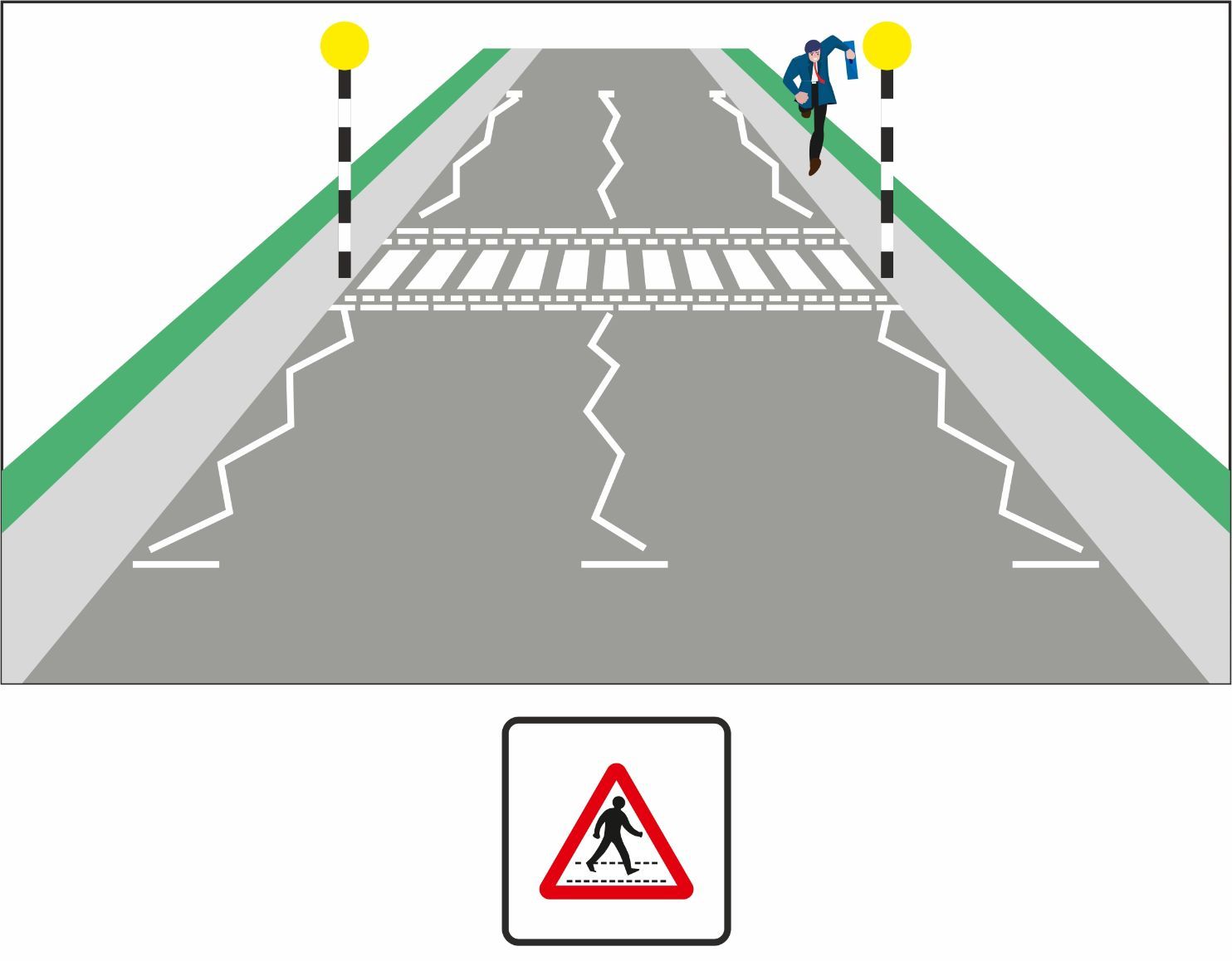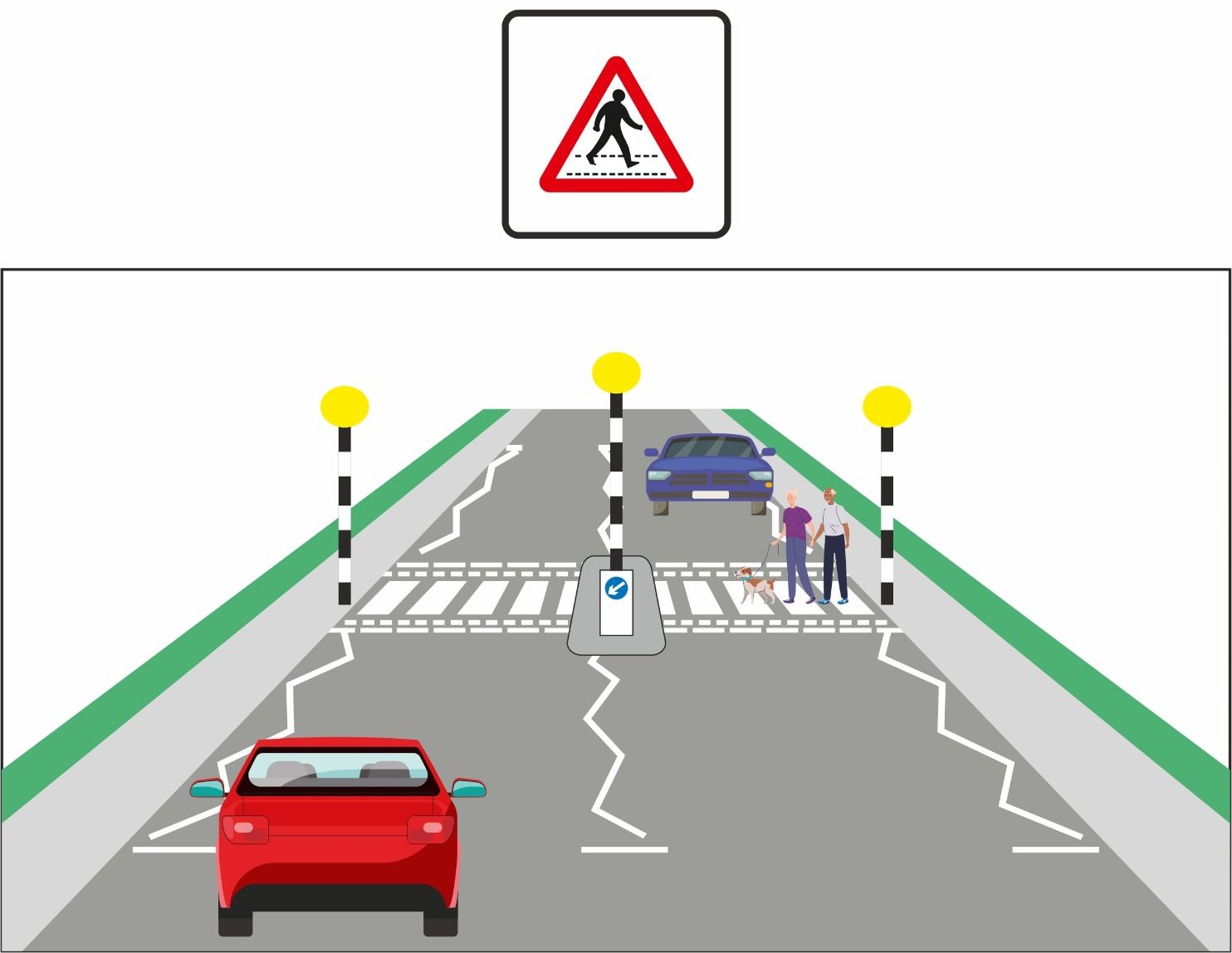 Zebra Crossing with Centre Refuge
In some cases, you will find a central island, splitting two smaller zebra crossings, on wider sections of road.
If you approach this sort of zebra crossing you do not need to stop if there is a person waiting to cross on the other side of the road to where you are driving.
***So whilst the girl in orange is still not at the centre part of the crossing - the van is quite legally entitled to drive past.
Contrary to what you may have seen, it is not good practice to wave someone across on a zebra crossing.
It is up to the pedestrian themselves to decide if they wish to cross, as there may be waiting to see if the car on the other side of the road is going to stop also.
A controlled crossing as the name suggests, controls when traffic stops and can go
It also controls when pedestrians can cross
Controlled crossings have ZigZag lines on approach to them.
A traffic light with a secondary use as a crossing will have straight white lines in the centre of the road on approach.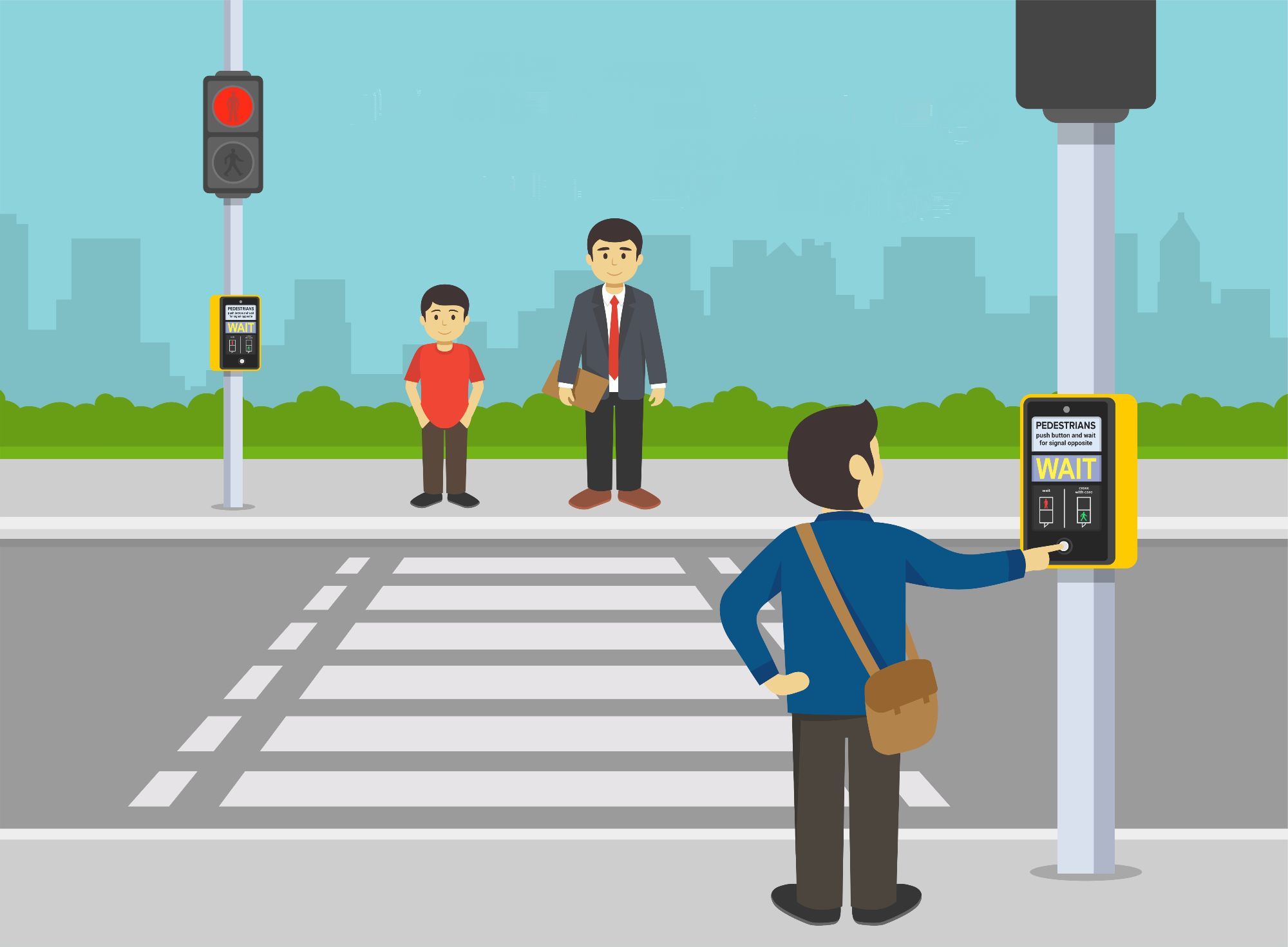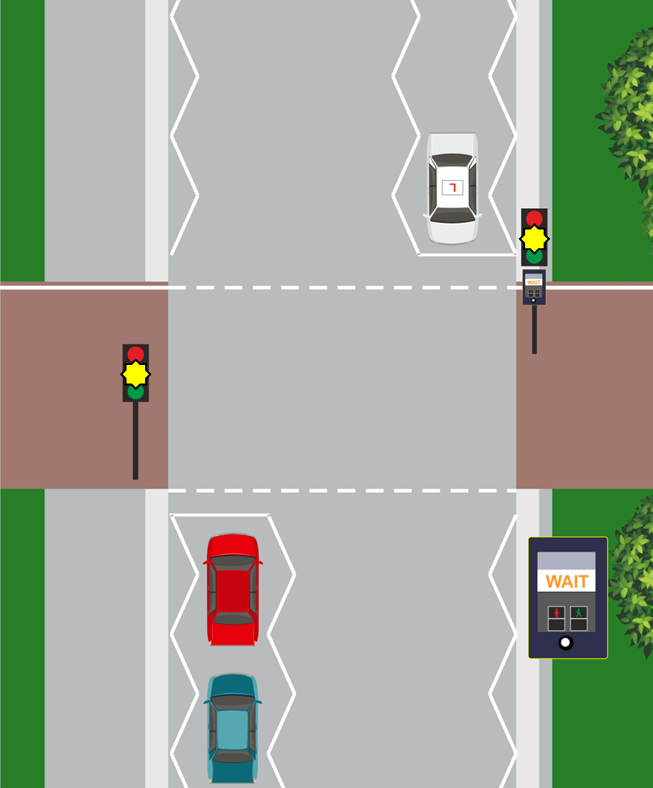 This is controlled by a set of traffic lights, and pedestrians can request to cross by pressing a button and waiting for the green man to indicate they can cross.
The red light will be on for drivers as the green man shows for pedestrians.
When the green man starts flashing the amber light will flash for drivers – during this time drivers should not move if there are still pedestrians crossing the road.
If there are no more pedestrians crossing when the amber light shows – drivers can move on.
THE LIGHT SEQUENCE ON THESE IS RED - FLASHING AMBER - GREEN
If its safe and clear to go you can procede on flashing amber.
They have sensors on top of the lights and in the pavement so they know when a person has finished crossing.
In this way, the lights will only stay red as long as it takes for the person to cross and will go back to green once that person is across
it also has the benefit of giving pedestrians as long as they need to cross without being rushed by a timer.
THE LIGHT SEQUENCE ON THESE IS RED - RED AND AMBER - GREEN
You cannot go until the green light comes on.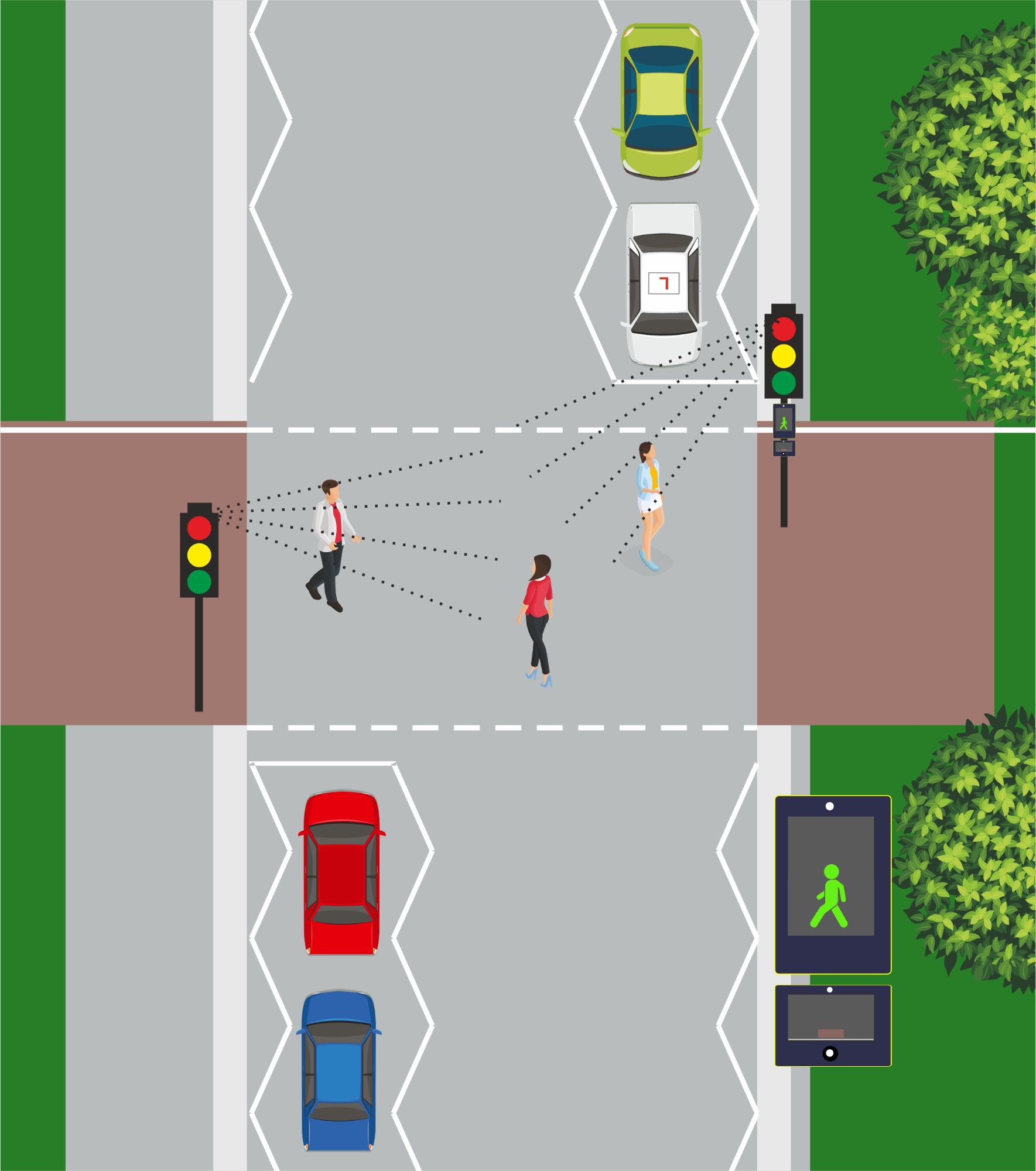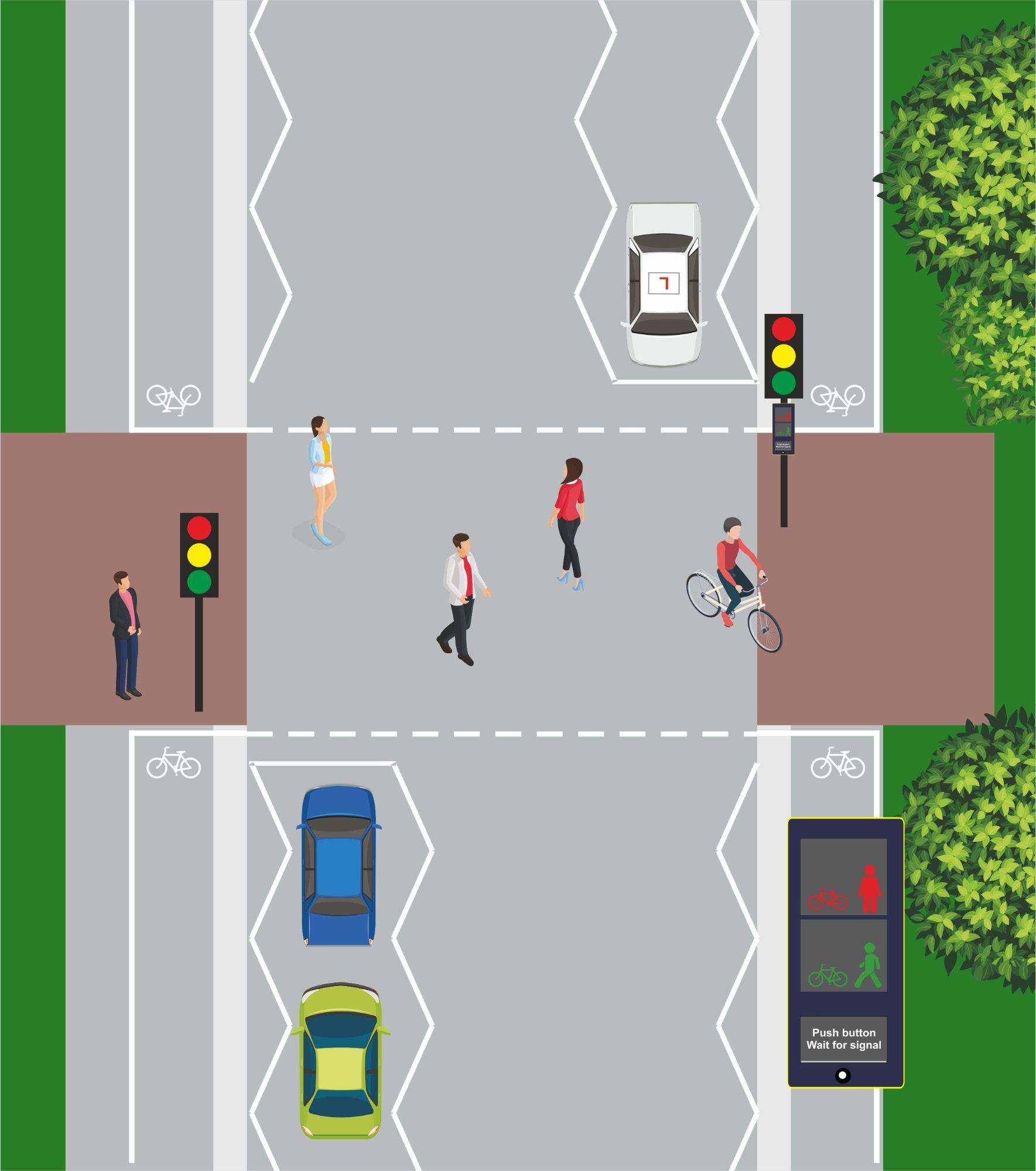 Designed for cyclists, toucan crossings enable cyclists to cross without having to get off their bike (whereas normally they should dismount).
So think of "2 Can Cross" - Cyclists and Pedestrians
These crossings usually have cycle lanes near to them
The centre part of the crossing is wider to allow both cyclists and pedestrians to cross at the same time but have enough space.
THE LIGHT SEQUENCE ON THESE IS RED - RED AND AMBER - GREEN
You cannot go until the green light comes on
Pegasus or Equestrian Crossing
As the name suggests, equestrian crossings are designed for horse riders. They allow a rider to stay on their horse as the button to request to cross is higher than normal.
a pegasus crossing lets equestrians ride their horses across the road next to people on foot.
Again, these crossings use sensors to detect when there are people waiting to cross or already crossing the road and are usually wider than pelican or puffin crossings.
They also feature an additional green signal for equestrians and have an extra set of buttons higher up, so they can be reached by people riding on horseback.
THE LIGHT SEQUENCE FOR THESE IS RED - RED AND AMBER - GREEN
You cannot go until the green light is showing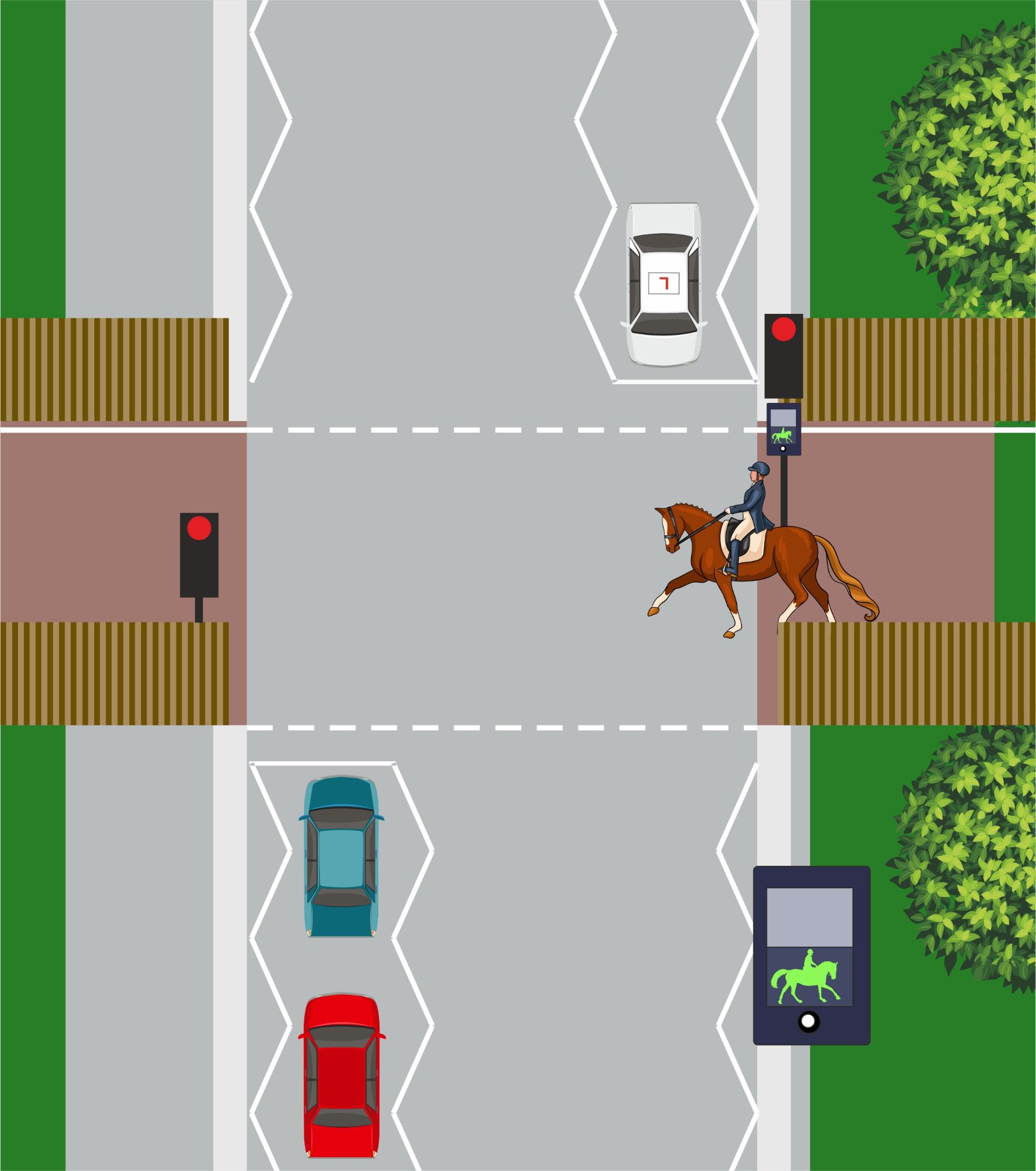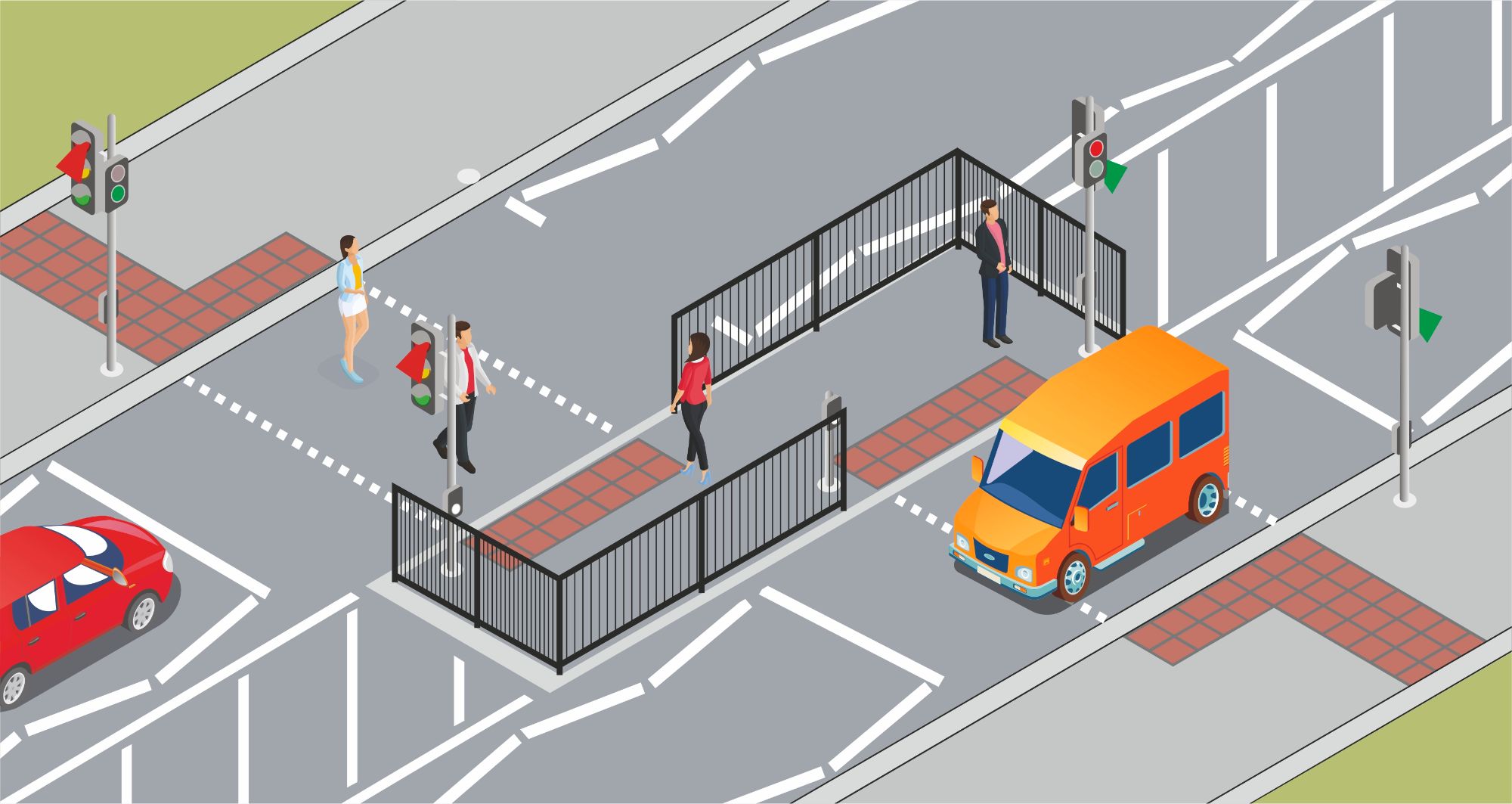 When the crossings on each side of the central refuge are not in line they are two separate crossings.
On reaching the central island, press the button again and wait for a steady green figure.
THE LIGHT SEQUENCE FOR THESE IS RED - RED AND AMBER - GREEN
You cannot go until the green light is showing
Please complete the form below and click the Send button to get in touch with us.
Thank you for submitting the contact form.

Monday - Friday:
09:00 am - 6:00 pm
Saturday - Sunday:
10:00 am - 3:00 pm